Run Cary, Run!!!! Cary Grant in Hitchcock's North by Northwest
B
y now you've probably seen Lady Gaga's latest video,
Born This Way
and how the start is taken from
Vertigo
Hitchcock's really eerie movie. And so you want to believe that the classic, psychological thriller legend, Hitchcock is but a mere reference Gaga used for her latest project...
But then you realize that Hitchcock is not just impressing Gaga, but also the people who were responsible for Bottega Veneta's Spring 2011 campaign (one of my favorites this season). Check this out.
Santiago Montero and Karolina Kurkova play 2011 Hitchcock muses for Bottega Veneta's well-shot and very, very elegant campaigns. It might not be the intention behind it, but this shot is just a dead-ringer for Cary Grant's North by Northwest shot above. The others make me think of Birds just because there are birds in the background and at the same time, those dashboard shots remind me of scenes from the movie, when all they could do is stare in fear from inside their semi-safe cars.
Amazing shot...The black, glossy jacket, the pristine white trousers, the super chic bag
and then it's the eternal blue of the sky and the grays and whites of birds balancing the entire thing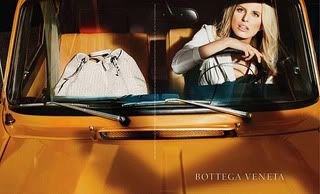 Karolina Kurkova for Bottega Veneta...
Another great shot
Turns out Alex Prager, as I go deep into research, is the photographer for the campaign and what he's known for are these kinds of photos.
I don't know (yet) if ever this has Hitchcock in it, but the resemblances are pretty much leading me to conclude that they are inspired by Hitchcock: the beautiful girls, the 60s clothes, (duh) the birds and just all these other sort of sinister slants on the photos. Amazing what little knowledge of art and film and culture and fashion could do to you... Bottega Veneta wins my vote for Best Campaign this season...
-Gerard