Backstage @ DSquared2...
Nikola, who are you texting? BBM-ing?
A
s a sort of training for
Salt
readers, you all are aware of my weekend-y style inspiration posts. I keep saying this, to myself, to Bryle, to Tj, to everyone: the model-off-duty look, is all the craze right now and I'm hopping on the bandwagon because I could relate to it. Shame on me, I know...To claim that I could relate to superhuman figures (uttered in a British accent) is sacrilege. But I do like the easy, semi dressed-up looks they all come out with and Gucci boy, Nikola Jovanovic is a pretty handsome peg to start your style study with.
Cheekbones and that million dollar pout aside, Nikola dresses well for his age. I believe he's somewhere near my age and his style is nothing revolutionary: t-shirt, jeans and a pair of cool kicks. It's definitely the nonchalance and the seemingly brandless pieces he favors that gets me. Models, you know are getting goodie bags from designers, especially when you're an exclusive like Jovanovic, and somehow the things they get (if I'm ever correct about these things) don't carry much branding. Unless of course it's a Chanel bag or the logo's sprawled across the chest, but the reason why I'm a huge fan of models-off-duty looks is cause you could do it. I mean, check out O'pry and how he does layering with sort of run-of-the-mill items that look so damn good on him. And yes, the face and the fact that he's a model makes it ten million times better. The same goes with Nikola.
Then again, there are people I know, like a certain classy lady from school (I'm shy to put her name here) who goes to class wearing ballet flats, skinny jeans and a plain top and her finest accessories would come in simple earrings, a nice bag and a haunting perfume that would linger in your dreams. I mean, it helps that she's pretty and very lady-like, but the point is the effort she puts into dressing drops to zero but she manages to look like a million bucks. It's a cliche, I know, but then you look at other people who are so conscious (ehem, guilty) of the way they look and are too tied-up with labels and for some (actually a billion) reason, miserably fail. I admit to having the biggest bias for people who look good and could disarm you a mile away cause they give themselves the right amount of care and could fair as a nominee for a best-dressed list, I mean, that's the way to do it. And I'm not getting into all that inner beauty I'm-meditating-under-a-tree thing people get so caught up with. I'm all for looking good and at the same time giving yourself the space for "stylish" abandon and (to borrow from gay lingo and to take it a different meaning) "carry".
Nikola Jovanovic, with his black plain shirt, those skinny jeans and a pair of gray plus lime green sneakers has got me hooked. I'm now swearing allegiance to Team Nikola.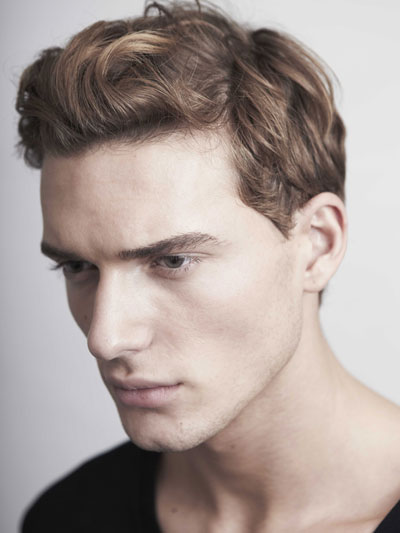 You could have this high-quality printed, frame it and it's art...
That hair, Jesus Christ...It's amazing.